N.
N.
Postanschrift:
Karlsruher Institut für Technologie
Physikalisches Institut
Postfach 6980
D-76049 Karlsruhe
AG v. Löhneysen: Metall-Isolator-Übergänge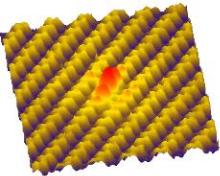 Structural disorder can lead to a localization of electron wave functions and metal-insulator transitions.
This gives rise to an enhancement of electron-electron interactions and to the appearance of local magnetic moments.
We investigate on heavily-doped semiconductors like crystalline P-doped Si (where disorder is introduced by the statistical distribution of P atoms) by measurements of the electrical resistance, Hall effect, specific heat, thermopower and magnetization at very low temperatures (down to 10 mK) in magnetic fields up to 9 T.
Individual P atoms can be identified by scanning tunneling microscopy and -spectroscopy.
The metal-insulator transition can be continuously tuned by application of uniaxial pressure to investigate the scaling of the electrical conductivity.
→ further reading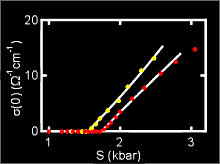 AG v. Löhneysen: Strongly correlated electron systems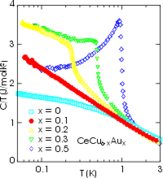 In some rare-earth and actinide compounds, so called "heavy-fermion systems", the interaction between conduction electrons and 4f or 5f electrons gives rise to anomalous low-temperature properties. Many transition-metal compounds show strong electronic interactions as well.
Since these interactions strongly depend upon the interelectronic distance, different ground states (magnetic, non magnetic, or even superconducting) can occur as a function of external pressure or "chemical pressure", which is introduced by alloying with a third constituant of different atomic size.
Families of these alloys (e.g., CeCu6, CeBiPt, MnSi) are investigated by measurements of the electrical resistivity, magnetization and specific heat, partly up to pressures of 20 kbar.
AG v. Löhneysen: Metallic layers, layered systems and nanostructures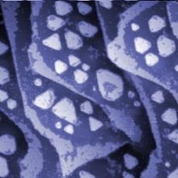 Metallic layered systems, consisting of alternating superconducting and ferromagnetic layers are studied by measurements of the electronical resistance, the magnetic susceptibility and the magneto-optical Kerr effect to investigate the interplay between superconductivity and magnetism.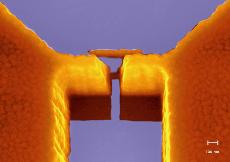 Thin metallic "bridges" (width down to 40 nm) between two metallic layers can be prepared by nanostructuring methods. At low temperatures, the electronical transport exhibits interference effects due to the coherence of the conduction-electron wave functions. Normal and superconducting bridges are investigated.
Contacts consisting of a few or only one atom can be prepared by breaking and reconnecting nanostructural bridges (width = 100 nm). The current through single atoms is investigated by means of the superconducting proximity effect.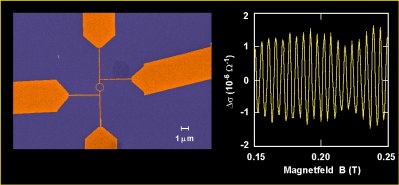 Publikationen der Arbeitsgruppe v. Löhneysen